®

2021 All Rights Reserved.
Solution for the the biggest growing trend in theft of
valuables from your vehicle. The theft of your laptop or
mobile devices could be critical to your business or
devastating with regard to loss of personal information -
and you cannot put a price on this. For a very reasonable
price Sanji can help secure your valuables from this new
form of theft that is growing at an alarming rate. The
Sanji JamAlert can be fitted to any make of vehicle with a
simple unobtrusive installation. The JamAlert is very
intelligent and uses Sanji's propriety technology to detect
jamming when you switch the ignition off and exit the
vehicle and it will audibly warn the you if a Jamming
signal is detected.
New Sanji ZX JamAlert
12 August 2015
Sanji Security Systems (Pty) Ltd was been awarded
approval from General Motors South Africa as an
official DSO supplier.
General Motors South Africa DSO Supplier
15 August 2015
Sanji Security Systems (Pty) Ltd was been awarded
approval from Mitsubishi Motors South Africa as an
official accessories supplier.
Mitsubishi Motors South Africa Approval
11 August 2014
Sanji Electronics (Pty) Ltd was been awarded approval
from Kia Motors South Africa as an official accessories
supplier.
Kia Motors South Africa Approval
6 August 2014
Sanji Electronics (Pty) Ltd is proudly associated with
Hyunda South Africa since 1999 as the only official
electronic security products supplier.
Hyundai South Africa Approval
Sanji Security Systems has released the ZX WheelAlert
which is a patented device that triggers your vehicle's
existing alarm system the moment someone tampers with
your spare wheel.
Sanji introduces ZX WheelAlert
Spare Wheel Alarm System
1 August 2016
Sanji Security Systems has released the ZX70 MK2-CL-J and
ZX70 MK2-CL-J-NS that represents a new generation in
vehicle alarm systems with built-in remote jamming alert
detectors.
Sanji introduces New Alarm Systems With
Built-In Remote Jamming Detectors
7 March 2017
Sanji introduces JO Journey Organizer
15 November 2017
Jump JMP12 is a multi-function vehicle jump starter
device that has been designed with the maximum user
safety in mind. The Jump design incorporates numerous
patents making it the leading edge product in its
category. Seamlessly start 12v petrol vehicles up to 4.0L
and 12v diesel vehicles up to 2.0L. Charge your mobile
phones / tablets or run your 12v automotive equipment.
Built-in LED flashlight with flashing and emergency SOS
functionality. Jump is NRCS approved and is covered by a
2 Year Warranty. Available July 2018
JO will generate your tax and travel claims for business utilizing
GPS and the latest Bluetooth technology to seamlessly transfer
your trip data via your Smart Phone.
Isuzu online factory fitment approved
June 2020
Get a JUMP Start
15 June 2018
Powerfull new addition to the Jump range now
available. Jump start 12v petrol engines up to 7.5l and
12v diesel engines up to 5l
Custom manufactured security products for Isuzu
South Africa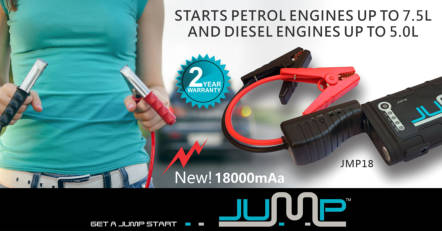 Journey Organizer Corporate is a cost-effective
productivity system that assists in managing and
motivating vehicle-based mobile teams. The system is
fully automated, and the reports are delivered directly
to your inbox, thus saving you the time and hassle of
generating them manually. Get your team member's
activity and feedback quickly and efficiently to stay
ahead of the market.